According the local tradition Sant'Emidio, Patron Saint of Ascoli Piceno, was the first bishop of the city
He died martyre (303 or  309), decapitated in the place where the Tempietto of Sant'Emidio Rosso stands. A legend wants him as a saint "cephalophor": one beheaded picked his amputated head and went prodigiously to bury at the Hypogeum now enclosed in the Temple of Sant'Emidio alle Grotte.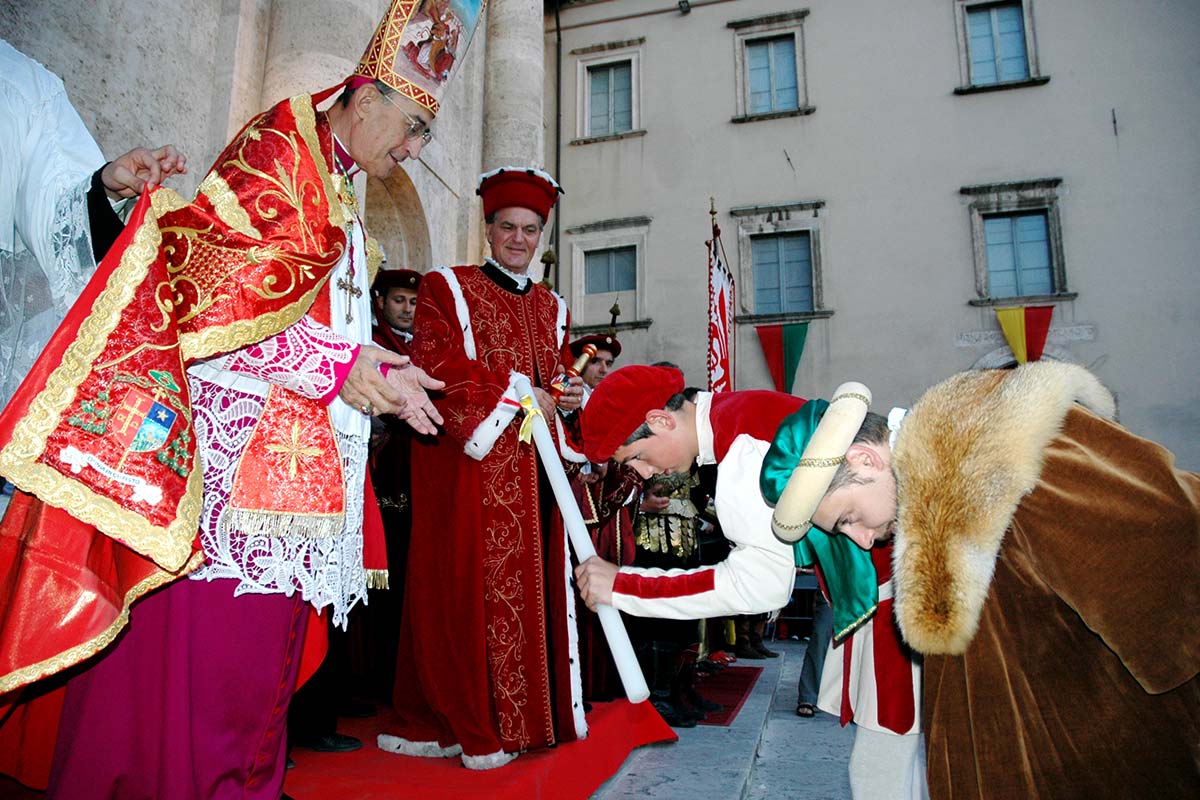 From the XI-XII century. It became the «defensor civitatis» of the free Commune and its Territorial Committee. Despite the late gathering (in the XI and XV sec.) Through subsequent editions of his biographical news (his hagiography was apocryphally attributed to his disciple Valentino), who probably added facts and elements from the symbolic-political meaning, Emidian worship is (Documented by churches devoted to him since the eighteenth century), while the translation of his relics from the catacombs of Sant'Emidio to the Caves in the cathedral crypt took place around the thousand by Bishop Bernardo II. The biographical event of Sant'Emidio must therefore be placed in a context of early spread of Christianity, as is documented by archaeological finds and archives, as well as by a strong local tradition. Particularly interesting is the emidian honeycomb stratification, operated from different elements by age, content and meaning. If the cult of Sant'Emidio has remote roots, news of his feast begins with the documents of the free commune, when the saint became his "patron", which is the guarantor of the highest values of religious and civil life. In a society, such as the medieval one, closely attentive to the legal regulation of social relations and institutions, conceived according to a hierarchical pyramid organization, the term "patronus" (pater familias and pater gentis) evoked the need Part of the city community, to have the patronage of an authoritative saint of the "heavenly city" to whom to entrust themselves as "clientes" but also as "friends" and "familiar". A clear line tied Saint Emidio, the heavenly bishop and invisible (but close and present through his relics and worship seats) and the visible bishop, his successor to the Ascoli speaker, attentive to dialogue with civil authorities and the people.
Enjoy and live the medieval atmosphere of the Quintana!
Visit Ascoli and enjoy the extraordinary horse races in July and August.
Click here to buy your tickets
Do you need more information?
Do not hesitate to call us at (+39) 0736.298223
or at (+39) 0736.261165
You can also email us:
contact us
Accesible and sustainable tourism: welcome and advanced communication for the tourist
---

Project made with the contribution of Mibact, according to D.M. December 13th, 2010